Tripsolver Ticketing Services(TTS)
Travel Agents can now price travel requests through TTS (Tripsolver ticketing services) system. TTS will register and approve your agency for Instant pricing. TTS terms and conditions apply to process and validate agencies.
TTS for Agents

Why should I register with TTS** services when I have my own Travel Agency…?

Global Presence
Yes your Travel agency is doing great but only limited to local business with limited customer reach. Now with TTS, you can quote, reprice and fulfilment tickets for customers all over the world.

Earn More Business
You have full control on your markup and discounts, you decide and we offer to customer. Customer selects the route and you can price it and earn more business and commissions.

Publish your Best Deals
Yes you got this Right!! You have a best deal but not sure how to reach customers and make Best sale for the day, now just publish your deals and offers with TTS and Customers can directly book that deal ticket online.

Invoicing and Reports
Advanced system for ticket tracking and Invoicing. Expand your business with TTS advanced reports and let you identify to grow.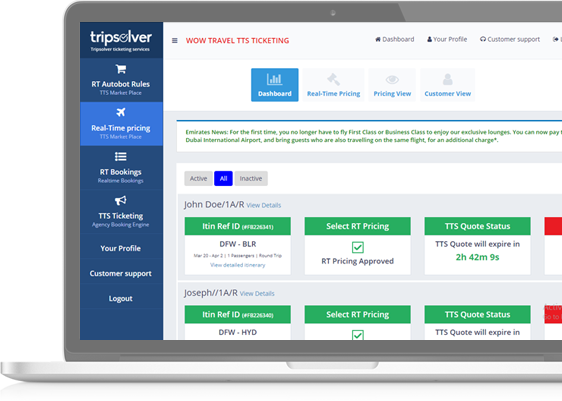 How to Start


Register for a quick demo with your information


TTS validate and approval with a]Login activation key!


Start marketplace pricing and increase your travel revenue!!
Note: we will contact you in the next 24hrs to answer your questions.
**TTS services: Live B2B secured login application for Agents. Our Advanced B2B system provides Real-Time fares and customer travel request services. Agents can instantly quote their price on the itinerary and complete booking transactions.
**TTS services may require GDS downline agreement and one time setup fees and system setup. TTS will charge agents based on ticketing and booking numbers. Terms and conditions apply on all agent fares.
NEED HELP?
Call our agent service number to find more details and registration.
Contact us at info@tripsolver.net or call +1 844 238 TRIP(8747)
© Copyright 2019 All Rights Reserved